A picture taken in the early 1980s shows me at age 3 eating dog treats out of my grandparents' food pantry. I think back on that picture and recognize how things have changed in the last 30+ years when it comes to Food Safety, most recently for the Pet Food Industry. Environmental Monitoring or Product Testing Programs rarely existed back then, and the few that did exist lacked planning. If I had gotten sick from consuming contaminated pet food, my parents or doctors would never have assumed eating dog food/treats caused it.
To prevent animal sickness, and potential human sickness in cases like mine, Environmental Monitoring Programs for the Pet Food Industry need to focus on being preventative instead of reactive. Establishing an Environmental Monitoring Program on paper is not good enough; you need to fully implement the program in your facility to ensure the safety of your products.
Many key components make up a successful preventative environmental monitoring program. One of the keys to success is upfront preparation. This requires adequately mapping out Environmental Sites at your facility and ensuring a random sampling program is in place. You should also implement a follow-up process to address any samples from your facility that test positive or indicate "hot spots" for pathogens. Additionally, you should focus on the management and follow-up of mitigation programs. These steps are fundamental pieces of the backbone to any Environmental Monitoring Program.
Once testing results have been generated, the challenge becomes what to do with the results and how to manage all of the data. Mismanagement and underutilization of data can result in an ineffective program. Many times a Quality Assurance Manager receives test results, reviews them and then places them into a file where they may not be viewed again.
I was on a client visit once and I asked the QA Manager to show me how he manages his testing data. He opened up the cabinet next to his desk and displayed the files for me to see in response. He was not proud of it, but it was the best he could do with the resources available to him. This type of "filing system" can allow for a lack of follow through on appropriate corrective actions.
Several exciting new tools in the market can help with the burden of data utilization and how to make proactive decisions. One of those solutions is EnviroMap®, a cloud-based software that automates your Environmental Monitoring Program. This software allows you to schedule and organize your sampling plan. It also features a task manager function to ensure nothing is forgotten, a notification system that can be customized to meet your needs and enhanced reporting capabilities to help you handle your data.
As the Pet Food Industry continues to grow and Food Safety requirements evolve, it's important for you to take your Food Testing programs to the next level. To learn more and dive deeper into this topic, attend our free upcoming webinar, "Fighting Pet Food Pests: Environmental Monitoring for Pet Food Facilities."
Join Mérieux NutriSciences' Tim Freier, Ph.D., and EnviroMap's Brent Wallen for a discussion on analytical testing services for both finished product and environmental samples, integrated and robust quality systems that translate into value and brand equity, and our cloud-based environmental monitoring software solution, EnviroMap®.
Webinar: Fighting Pet Food Pests: Environmental Monitoring for Pet Food Facilities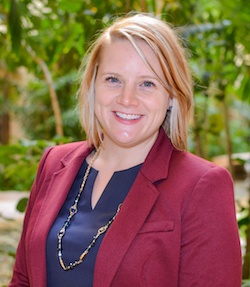 Stephanie A. Wilkins
Product Manager – Microbiology, Mérieux NutriSciences
Stephanie Wilkins is the Product Manager for Microbiology at Merieux NutriSciences. She has over 10 years of food industry experience and is a member of a couple industry organizations, including IAFP and BIFSCO. Stephanie received her Bachelor of Science in Nutrition Science from Indiana University. She enjoys working out, reading and spending time with her family.