On November 2nd, Biofortis celebrated the opening of our new Biofortis Clinical Trials and Sensory & Consumer Insights Center by hosting an Open House event. We welcomed clients, vendors and friends to tour the new 12,500 square foot facility and learn more about this unique research site. In case you missed it, here are some highlights of the event and five things that our guests learned about Biofortis.
1) Three Different Names; One Great Company
People often ask, "So what exactly is Biofortis and what does that have to do with Mérieux NutriSciences? But you guys are Silliker too, right?" This is certainly not the first time we have faced this question, so the classic response is an understanding smile and nod from our team. Silliker has been a well-recognized name in the food safety and quality testing, inspection and certification segments of the food industry for 50 years. In the 1990s, the Mérieux family invested in Silliker laboratories. When Mérieux NutriSciences acquired Silliker, we became a global presence with laboratories in 21 countries. In April 2011, our USA clinical research team partnered with Biofortis, a company with like-minded clinical researchers in France, focused on nutrition. Today, Biofortis operates as a global subsidiary of Mérieux NutriSciences, with clinical trials sites in the US, France and China. No matter which of these names you know us by, we represent over 6,500 employees across the globe, all dedicated to improving consumers' health.
2) Things Are Not Always as They Appear
At Biofortis, attendees were impressed with the broad scope of expertise demonstrated by our scientists in the nutritional and sensory science fields with publications and speaking engagements, and also our beautiful new lab space. But some of the biggest, "Ooohhhs" and "Aaahhhs" heard during the open house were for the tiniest and most unassuming performer of the night—our gummy bears. While we discussed our 15 private sensory booths with direct serve windows to our test kitchen, positive air pressure and RedJade data acquisition software, it wasn't until we demonstrated our color-controlled LED lighting that the real applause commenced. We use our multicolored gummy bears to illustrate our ability to mask the appearance of a product by using different colored lights in the booth area. Guests watched as various colored gummy bears became indistinguishable under blue light before their eyes. It may sound like an entertaining parlor trick, but this is one of many tools used by our sensory scientists to focus panelists' attention on specific product attributes and glean consumer insights.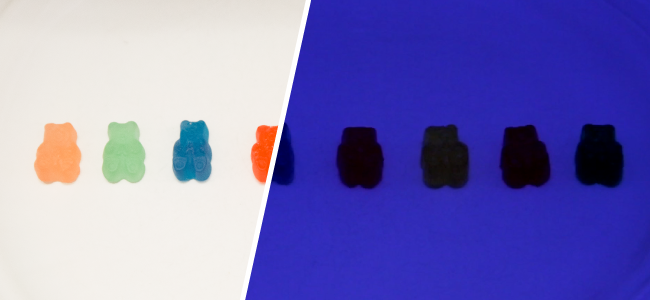 3) Skeletons Do Appear After Halloween
We hosted this open house just two days after Halloween, so while our children's costumes were put away, somehow we still had a number of skeletons appear at Biofortis! A number of visitors took the opportunity to experience a Dual-Energy X-Ray Absorptiometry (DXA) scan during the Open House. The DXA is an instrument that uses x-rays to measure body composition. Visitors relaxed on a raised platform as a scanning arm moved above their bodies and then suddenly they appeared as a skeleton on the monitor! The software also produces a heat map that uses orange and yellow to delineate the lean and fat areas in the body. Although some were a little scared to see their results, these guests had a great time getting a firsthand look at how we use this technology in our body composition and weight loss trials. The instrument also measures bone density, which is used in studies on osteoporosis.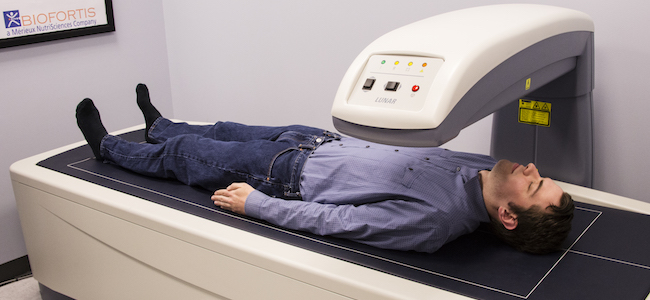 4) People are Our Greatest Assets…and Instruments
At Biofortis, our guests see some impressive analytical equipment, but that is nothing compared to the minds in our microbiology and chemistry labs. On both the Sensory and Consumer Insights Team as well as the Clinical Nutrition Innovation Teams, we have a number of scientists with advanced degrees who contribute to industry publications and speak at industry events. These experts design experiments, create recruiting and screening schemes, perform biostatistics and consult on a variety of subjects. It is this brain trust that powers Biofortis' sensory studies and clinical trials, but we cannot ignore the other set of people who make our work a success – the study participants! For our clinical trials, we pull from a database of over 15,000 contacts. Of those contacts, 3,000 have been identified for our sensory database and 200 are confirmed discriminators. We actively recruit on a regular basis to add new people to our database so we can fulfill any demographics that are requested by our clients.
5) Less is More
We enjoyed taking guests on a tour of the new facility during the Open House. Guests started the tour in our sensory area, which features 15 booths, and proceeded through the clinic, where subjects participate in medical screenings for clinical trials. Along the way, they saw our specimen collection lab and a myriad of instrumentation used to measure a number of health indicators, such as metabolic rates, body composition, and CO2 output during exercise. Visitors then gathered in the test kitchen to see exactly what it takes to support both sensory research and feeding studies for the thousands of subjects who participate in our testing each year.
As impressive as all of that was, the end of the tour showcased the most palpable difference between our old and new facilities – our office space. With soaring ceilings and an open concept design, the space calls for collaboration. We have left behind closed off corridors and office doors. Our 32 employees have the freedom to gather in common areas to discuss results or work together on experimental designs with ease. At Biofortis, an open floor plan = open minds = innovation.
Biofortis is Mérieux NutriSciences' global research organization serving innovation in food, nutrition, health, cosmetics and consumer goods. By combining our nutrition expertise with our clinical research ability, we are uniquely suited for food, ingredient and dietary supplement focused studies aimed at answering questions about product safety, tolerance, bioavailability, and efficacy for both disease and non-disease endpoints. Ready to develop your innovative new product? Contact us today!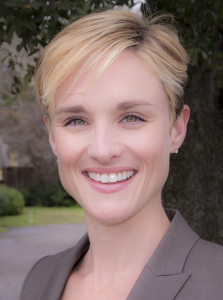 Gillian Dagan, Ph.D, CFS
Research Services Business Development Director, Mérieux NutriSciences
Dr. Dagan joined Mérieux NutriSciences with the mission to grow the Research Services business unit that provides clients with customized research projects like sensory testing and shelf life studies. She previously served as Chief Scientific Officer of ABC Research Laboratories where she developed sensory and quality assurance programs for manufacturing and food service clients.