With the new Nutrition Labeling Regulation deadline quickly approaching, the addition of one small line is creating a lot of buzz – added sugars. When the Food and Drug Administration (FDA) announced the changes to the Nutrition Facts Label in 2016, they included a requirement for the label to display added sugars, both in grams per serving and the percent Daily Value (%DV). Manufacturers have since been working to update their product specifications with added sugar values, companies are working to calculate the amount of added sugar in their products and consequently, consumers are beginning to see these values appear on the labels of the foods they eat. Although this new information is meant to help inform, both food manufacturers and consumers alike are unclear as to what counts as an added sugar and how much of it should be consumed.
What are added sugars?
Added sugars are defined by the FDA as, "sugars that are either added during the processing of foods, or are packaged as such, and include sugars (free, mono- and disaccharides), sugars from syrups and honey and sugars from concentrated fruit or vegetable juices that are in excess of what would be expected from the same volume of 100 percent fruit or vegetable juice of the same type." From this definition, we can see that not all added sugars are created equal, as sugars from both refined sources and plant sources are considered added sugars. Food manufacturers use these sugars for a variety of reasons, such as increasing the consumer acceptability of less palatable foods, aiding in necessary chemical reactions in a product or maintaining the proper standard of identity of a product.
Why label added sugars?
While added sugars can be part of a healthy diet pattern, consuming them in excess has been proven to contribute to poor health outcomes. Studies conducted on the general population in 2010 showed that the typical American diet exceeded 13% of daily caloric intake from added sugars sources. According to these studies, when caloric intake from added sugars exceeds 10% of a person's diet, it becomes more difficult to meet nutrient needs without exceeding calorie requirements. Because of this, one of the main goals of the Dietary Guidelines for Americans (DGA) for 2015-2020 is reducing the intake of calories from solids fats and added sugars. These guidelines are aimed at reducing obesity and other diet-related diseases across the population. The DGA recommends that people not exceed 10% of caloric intake from added sugars, and the FDA used these recommendations to set the Reference Daily Intake at 50 grams per day.
Sweet labeling
With added sugars finding a new home on our food labels, it is important for consumers to stay educated about how to interpret these values. Added Sugars will now be listed underneath the Total Sugars value on the label. It will read "Total Sugars X g; Includes X g Added Sugars X%" The goal for each individual is to consume less than 50 grams of added sugars daily. Consumers should also be keeping this value in mind when preparing foods at home and when reaching to add sweeteners themselves. Again, not all added sugars are created equally, so looking at the list of ingredients will provide better insight into the sources of the sugar in the product. Fruit juice concentrates, fruit/vegetable purees and pastes are all included in the definition of added sugars, however, they can also provide necessary nutrients.
Food manufacturers and consumers alike should remember that added sugars can be found in both nutrient-dense foods, as well as foods that provide fewer nutritional benefits. For example, parents may only be able to convince their children to consume necessary nutrients if they are sweetened a bit, and that can work in a balanced diet. Under the new DGA, the main focus is to create healthier trends in our diets and lifestyles. This spotlight on sugars is intended to help consumers get their required nutrients before reaching for a sweet fix and reduce the amount of sugar found in beverages. The aim of these new labeling requirements is not to force an individual to cut out every bit of sugar they would normally consume, but instead to help consumers focus on moderation as a part of a healthy diet.
Are you prepared to implement the new nutrition label on your products? Do you need help calculating your added sugar value? Added sugars cannot be tested analytically, but the experts on our Regulatory Compliance team can calculate your added sugars for you. Ensure the values being added to your new nutrition labels are accurate. Contact us today!

Meet the Author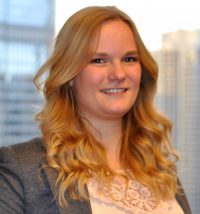 Paulina Schmidtke
Regulatory Compliance Analyst- Nutrition Database & Labeling, Mérieux NutriSciences
Paulina earned her Bachelor's degree in Dietetics at Michigan State University, where she sparked her interest in food labeling regulations working with small businesses in Michigan. At Mérieux NutriSciences, she works with national restaurants and manufacturers to help them stay compliant with new labeling regulations. Paulina has a passion for cooking, developing new recipes and home brewing new beers with family and friends.