As most of you have heard, the Food Drug Administration (FDA) has proposed an extension to the compliance dates for the Nutrition Facts Label regulations announced in 2016. The proposed new deadlines will be January 1, 2020 for food manufacturers with $10 million or greater in annual food sales and January 1, 2021 for food manufacturers with less than $10 million in annual food sales. Although the deadline has been pushed, many food manufacturers and retailers have already switched to the new nutrition label. If you are having trouble getting started, here is Mérieux NutriSciences' easy guide with the 6 steps you should take to implement the new nutrition label.
1) Calculate the New Mandatory Nutrients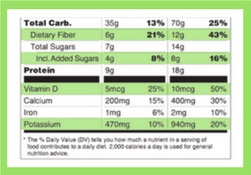 Vitamin D, Potassium and Added Sugars have all been added to the label. If you did not declare Vitamin D and Potassium voluntarily before, in order to create your new label you will now need to calculate these nutrients either analytically or by using calculated analysis. However, keep in mind that Added Sugars cannot be determined analytically, so in this case, you will need to review your ingredient statement to see if your product contains Added Sugars and keep documentation on the amount of sugar in the product.
The dietary fiber definition has also changed. The new definition has triggered the FDA to approve only seven isolated or synthetic non-digestible carbohydrate(s) to be considered as dietary fiber, with twenty-four others having been reviewed, but not been approved yet. If your product contains an isolated or synthetic non-digestible carbohydrate that has not been approved, you will need to adjust your dietary fiber value to exclude it from your count. Unfortunately, there is no analytical test available to differentiate between the FDA-approved dietary fibers and those still under review.
2) Review Your Reference Amounts Customarily Consumed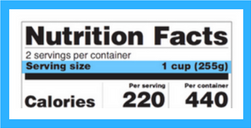 After determining the new mandatory nutrient values, the next step is to verify if the Reference Amounts Customarily Consumed (RACCs) has changed for your product. The FDA recently updated some of the RACCs for certain product categories to better fit what consumers in the United States are commonly eating or drinking in one sitting.

3) Include a Dual Column, if Necessary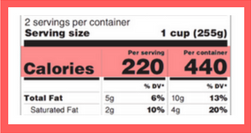 Once you know the RACC for your product, you will need to determine if your product requires a Dual Column Label. A dual column is required if a products total weight falls between 200-300% of the reference amount. For example, the reference amount of a bagel is 110 grams. If the bagel you produce is 225 grams, this means the product is 204.5% of the reference amount and therefore requires a dual column label. One column of the label will need to show the nutrition information for one serving, and the second column will need to break down the nutrition information for the entire package.

4) Update Your Servings Per Container
If your RACC has changed for your product, you will also need to recalculate the Servings Per Container to ensure accuracy.
5) Create Your Label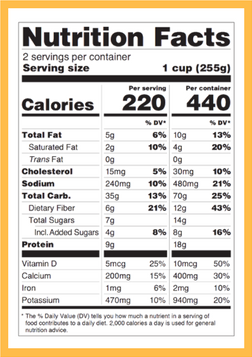 You now have all of the components needed to update your label! As you input your new nutrient values into your label, you will notice that the percent Daily Values (%DV) have also changed. This may affect the claims you can make on your food label, such as an "Excellent Source of Vitamin A" or "Low Sodium." Some claims you previously used may not be accurate anymore, but don't worry. There may be new claims based on the new %DV that you can now use for your product. If your product no longer meets previous label claims, you can use sensory testing to reformulate your product to fit the claims you'd like to make. If there's a dietary intervention claim you'd like to make, such as a specific claim about weight loss, you will also need to conduct a clinical trial to generate scientific evidence for your claim.

6) Conduct a Food Label Review
Since many facets of your Nutrition Facts Label have changed and your previous claims may no longer be suitable for your product, it is suggested that you conduct a food label review before printing the updated nutrition label on your product. A food label review will ensure your product is meeting the FDA regulations and can not be considered misleading or untruthful to consumers. A food label review also provides an overall check-up to ensure your ingredient statement is compliant, your nutrition label was updated properly and the naming of your product is meeting the standard of identity. Another important aspect of label compliance is ensuring all food allergens are properly declared. Hey, we all need check-ups annually, right? Your food label is no different, so now is the perfect time to make sure your hard work is compliant.
Accurate labeling and management is a key component of a successful food safety program. Do you know how to reduce your risk of a food recall due to mislabeling? Register for our upcoming training, "Accurate Labeling to Reduce Recall Risks and Protect Brand Image," in partnership with Cornell University on May 30 – 31, 2018. Attendees will gain a thorough understanding of food labeling regulations and learn effective methods to ensure accurate labeling.
Do you need to create or update your labels to comply with the FDA regulations? Mérieux NutriSciences offers complete nutrition labeling options and food labeling services to ensure compliant labels, with a Regulatory Compliance team dedicated to food and nutrition labeling. We conduct nutrition labeling by laboratory analysis, calculated analysis or a combination of the two. Our Food Labeling Compliance experts will help you determine which method is appropriate for your product. We can also help calculate your added sugars value or dietary fiber adjustments. Please contact us today if you need help updating your nutrition label.

Sophie Lauer, RD
Associate Nutrition Program Manager, Mérieux NutriSciences
Sophie Lauer is the Associate Nutrition Program Manager at Mérieux NutriSciences. She received her Bachelor of Sciences in Applied Health Science, Dietetics from Indiana University. Sophie received her MBA from Dominican University. In her free time, she enjoys cooking for friends and family as well as playing with her goldendoodle.