The way we drink coffee and tea is changing. Retail sales of refrigerated and shelf-stable coffee and tea products are growing, and the rapid growth of cold brew coffee and tea consumption, in particular, raises the question of microbiological safety.
Traditionally, coffee or tea is brewed fresh with hot water and consumed immediately. Therefore, they have been considered a low-risk food. Unlike hot brew, cold brew coffee and tea are brewed without heat, typically overnight at ambient temperature or over a long period of time. Therefore, cold brew coffee and tea have an inherent food safety risk due to lack of thermal process and prolonged storage at room temperature. Coffee and tea products are also considered a "low acid" food due to their high water activity and pH levels. While the addition of milk, milk alternatives, flavors, and other functional ingredients such as sugar and sweeteners make these products readily available to large groups of consumers, these innovations may bring the industry into uncharted territory with new challenges and considerations for food safety.
According to the FSMA final rule, coffee and tea brewers are required to implement a written food safety plan that includes a hazard analysis and preventive controls. Coffee and tea brewers should gather scientific and technical data to demonstrate the effectiveness of their preventive controls to control pathogens. Moreover, brewers need to demonstrate that coffee and tea products are microbiologically stable during storage.
Bacillus cereus, Clostridium botulinum, Listeria monocytogenes, pathogenic Escherichia coli, Salmonella, and Staphylococcus aureus are potential pathogens of concern in coffee and tea products based on the interaction of the product pH and water activity, as well as the ingredients used in ready to drink (RTD) coffee and tea beverages. L. monocytogenes can grow under refrigerated storage. Salmonella and E. coli are known for their acid resistance and survival at low pH conditions. C. botulinum spores can survive thermal processing and hot brewing temperatures. Nitrogenation of cold brewed coffee products creates an anaerobic environment that may promote the growth of C. botulinum. The first cold brew associated recall was announced in 2011 and, according to the FDA, nitrogenated cold brew coffee was processed in a way that could lead to the growth and production of the toxin by C. botulinum.
Preventive control should start as soon as coffee beans or tea leaves enter the drying and roasting process. Food establishments need to pay close attention to all potential hazards including the bottles and lids as a source of contamination. In the development and application of risk-based preventive controls, a preventative controls qualified individual (PCQI) is required by the FDA. Significant challenges involve determining key requirements for risk-based preventive controls. There are different levels and types of risk associated with roasted coffee or tea, compared to ready to drink coffee and tea beverages.
The coffee industry is becoming more complex and now encompasses more than just a single caffeinated beverage; and in particular, the cold brewing process poses unique food safety hazards from start to finish. Our award-winning scientists at the Silliker Food Science Center can help you design inoculated pack challenge and process validation studies to determine the microbiological safety of coffee and tea products.
Contact us for a collaborative approach to promoting consumer public safety and peace of mind.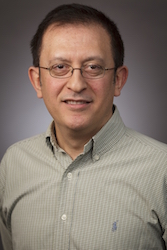 Dr. Erdogan Ceylan
Fellow, Mérieux NutriSciences
Dr. Ceylan works as Director of Research for Mérieux NutriSciences. He specializes in thermal and non-thermal process validation studies, challenge studies, shelf life studies, detection, identification, and control of foodborne pathogens and spoilage organisms in raw ingredients and finished products. Dr. Ceylan consults with the food industry on FSMA, HACCP, sanitation, microbiological risk assessment, prevention strategies, process control and regulatory requirements. Dr. Ceylan serves as the Responsible Official for the Mérieux NutriSciences select agents and toxins program under the Federal Select Agent Program for Clostridium botulinum research studies. A renowned scientist with nearly 20 years of experience, Dr. Ceylan has given presentations at international meetings including the International Association for Food Protection (IAFP) annual meeting, International Food Technologists (IFT) annual meeting, Reciprocal Meat Conference (RMC), International Dairy Food Association (IDFA) Conference, National Confectioners Association (NCA)/ International Association of Confectioners (PMCA) Quality Management Workshop, North Dakota State University Feed Safety Short Course and Pet Food Forum. He is a member of IAFP and IFT. Dr. Ceylan authors the Yersinia chapter in the Compendium of Methods for the Microbiological Examination of Foods (5th edition) and has published a number of articles in peer-reviewed journals and trade magazines.