Genetically Modified Organism (GMO) claims are being spotted more frequently on food labels as the debate over the health of GMO ingredients heats up. Many food manufacturers are trying to get ahead of the regulations by either disclosing the use of GMOs in their products or getting products certified as "Non-GMO."
Many consumers don't realize how long GMO foods have been on the market. The first commercially available GMO food made available on the market was a tomato in the 1990s! The rise of GMO foods brought a parallel demand for disclosure on food labels.Today, consumers who are concerned about the safety and nutritional value of these modified foods want the option to avoid them. With the high demand for disclosure and labeling, the USDA is now developing regulations for standardized GMO labeling.
On July 29, 2016, President Barack Obama signed a bill that would add an amendment to the 1946 Agricultural Marketing Act, requiring the Secretary of Agriculture to establish a standard method of disclosure of genetically modified foods within two years' time. Foods most likely to contain GMOs include products that contain corn, soy, sugar beets, canola or any ingredient derived from those specific plants. For example, high fructose corn syrup is often made from GMO corn.
Over the years, consumer buying habits have shifted greatly, especially among consumers avoiding GMOs and seeking organic diets. PackagedFacts estimated the non-GMO food sales in 2014 were $200 billion and expect the market to grow to $330 billion by 2019. That is some major market growth! To be certified organic, the product must not contain GMOs, as one of the core criteria.
In response to the market growth, Mérieux NutriSciences recently opened a new GMO lab. This lab will offer comprehensive GMO services to help food manufacturers navigate everything from testing for GMOs to complying with the new regulations when those are officially released!
After reading the infographic below, click on it to learn more about our GMO services: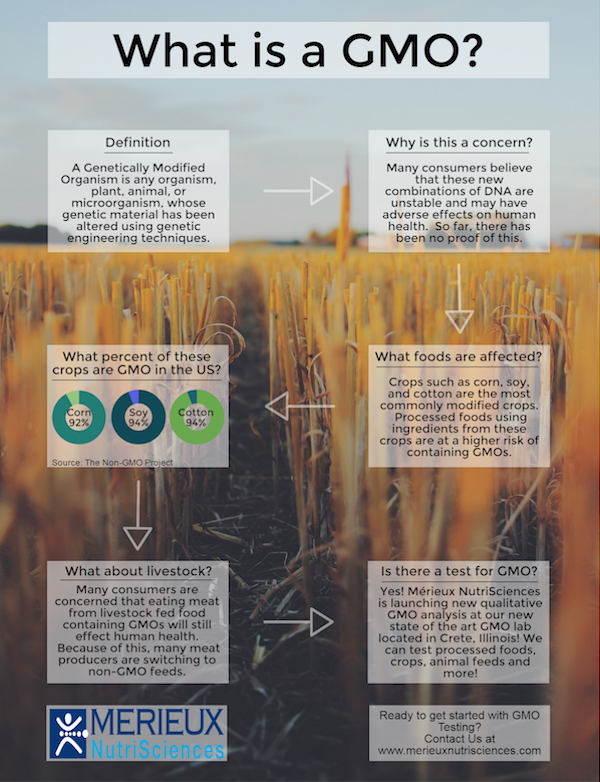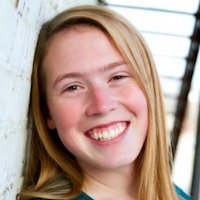 Katie Schott
Product Specialist, Mérieux NutriSciences
Katie Schott is a Product Specialist supporting Chemistry and Microbiology business initiatives at Mérieux NutriSciences. She received her Bachelor of Science in Public Health from Purdue University in 2013. In her free time, Katie enjoys reading, traveling, weightlifting and taking her dog for long walks by the lake.