Whether you're buying a bag of chips from a vending machine or reaching for an apple from the fruit bowl, everyone enjoys snacking. In fact, I'm thinking about having a snack right now! But what if your snack could actually work to your body's favor, in addition to being a treat you look forward to? Our Biofortis scientists explored this concept in recent studies and presented their findings with posters at the Experimental Biology conference last month in Chicago.
We found that tree nuts have gained popularity as a go-to snack food for all ages due to their convenience, flavor and perceived aura of healthiness. But while many varieties of nuts have been scientifically proven to offer cholesterol-lowering health benefits, not every type of nut has been tested for this benefit. Cashews were previously presumed to be less likely to lower cholesterol compared to other nuts, due to their higher level of saturated fat, but research on cashews had been lacking.
Now, our Biofortis research team has been able to demonstrate that cashews do offer similar health benefits as other nut varieties. Specifically, a clinical study presented by Biofortis last week in Chicago at the Experimental Biology (EB) meeting linked cashew consumption to lower total cholesterol in subjects as well as a lower LDL cholesterol reading, often referred to as "bad cholesterol." This controlled feeding study was performed in adults who were at risk for high cholesterol and used a typical portion size of cashews of between 1-2 ounces daily. The results of this study come as good news for the myriad of snacking adults who want to eat healthy – including me! For the full details of the study, see the abstract that was contributed to by Biofortis scientists Eunice Mah, Valerie N. Kaden, Andrea L. Lawless, Jose Rotor, Libertie Mantilla and DeAnn J. Liska, "Cashew Consumption Reduces Total and LDL Cholesterol in Mildly Hypercholesterolemic Men and Women: A Randomized, Crossover, Controlled Feeding Trial."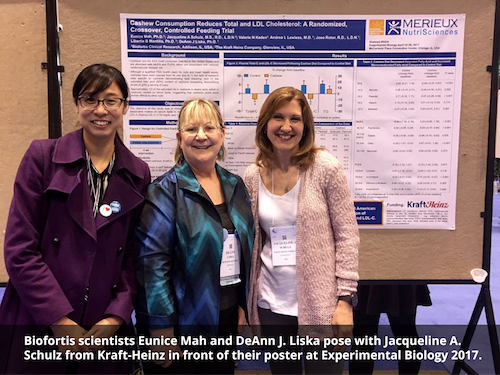 Cranberries have also maintained a reputation as being healthy. They have particularly been known for helping women who are experiencing urinary tract infections (UTIs). Last year, Ocean Spray published a study supported by our Biofortis team looking at the impact of cranberries on UTIs and recurrent UTIs in women. This landmark study, with over 300 participants, showed a positive impact of cranberries in reducing the incidence of recurrent UTIs in women. After seeing the results of this research, our scientists decided to look at the correlation between cranberries and UTIs on a larger scale.
This year at EB, our Biofortis scientists presented a collaborative project on this topic with Tufts University during the American Society of Nutrition meeting. Using a statistical analysis tool called meta-analysis, our scientists compared the data from several clinical studies on cranberries and UTIs in women to determine if a net effect existed. (For statistical purposes, we should note that most of the other studies included significantly fewer participants, but two of the larger studies did include more than 300 women). Upon completing the meta-analysis, our researchers found that the results show a clear positive effect of cranberries on UTIs across the board. For the full results, read the study that was led by Zhuxuan Fu from Tufts, with support from several other scientists, including DeAnn Liska from Biofortis, "An Updated Meta-Analysis of Cranberry and Recurrent Urinary Tract Infections in Women."
When they're not sharing their research at industry events, our experts at Biofortis regularly work with clients to support development of innovative new products. Biofortis serves innovation in food, nutrition, health, cosmetics and consumer goods on a global scale. Our full-service contract research organization, experienced scientists and quality control process compliant clinical center allow us to customize our approach for each project. Contact us now to start developing your innovative new product!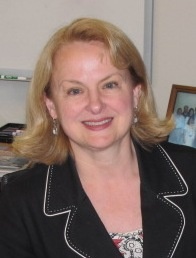 Pam Coleman, MBA, CFS
President, Biofortis / Vice President of Research Services, Mérieux NutriSciences
Pam Coleman, MBA, CFS, heads Biofortis as well as the Research Services team for Merieux NutriSciences in North America.  Her team provides nutrition, sensory/consumer and food safety/quality research support to the food and dietary supplement industries.  Her career spans more than 30 years, most of it focused on analytical service and research projects within food companies and for food companies.  Pam currently serves on the Board of Directors for the Institute of Food Technology.