Thanksgiving offers a chance to get together with family and friends to celebrate the season with lots of delicious food. But, while this annual feast gives us a chance to indulge, remaining healthy as the holiday season kicks off, looms in the back of some of our minds. Here are eight tips for celebrating a healthy Thanksgiving:
1) Be active – Holidays can bring endless days of planning and busy schedules. However, if your only Thanksgiving plans revolve around the dinner table and you have a free morning, then an annual Turkey Trot could be calling your name. Another great way to get moving is to participate in a Turkey Bowl with family or friends. Instead of watching football all day, get outside and enjoy a game of your own.
2) Eat breakfast – You may wake up on Thanksgiving Day thinking you want to save as much room as possible for your Thanksgiving meal. However, that does not mean you should fast and then feast. Make sure you are eating meals throughout the day, starting with a nutritious breakfast to kickstart your metabolism.

3) Everything in moderation– Thanksgiving tends to be a day of overindulging in our favorite seasonal foods. Go ahead and try all your favorite dishes, but in moderation. Instead of loading your plate with tons of turkey and stuffing, incorporate some healthier choices, like sweet potatoes, brussels sprouts, cranberries, green beans or even a seasonal salad. When it comes time for dessert, limit yourself to one or two servings.

4) Eat the rainbow – Just like every other day of the year, eating a variety of food on Thanksgiving is important for a well-rounded meal. When filling our plates, we tend to focus on the traditional Thanksgiving foods such as turkey, mashed potatoes, stuffing and pie. However, Thanksgiving provides the opportunity to incorporate some colorful foods as well. Try including seasonal vegetables into your menu, such as brussels sprouts, carrots, beets, sweet potatoes or celery.

5) Healthy swaps – There are plenty of ways to make traditional Thanksgiving foods, and your dinner plate, healthier. When going for the turkey, choose light meat instead of dark meat. Incorporate sweet potatoes into your meal instead of loading your plate with mashed potatoes and gravy. In addition, try out some new recipes, such as a healthy green bean side dish or a lighter stuffing recipe.

6) Up for seconds? – Take time to let your food digest before you dive in for a second helping. It can take up to 20 minutes before your body realizes that you are full. If you wait and find you are still hungry after that amount of time, try to fill your plate with mostly vegetables for round two.

7) Keep the serving plates off the table – Set up all of the serving platters for your Thanksgiving meal on a separate table so that guests can serve themselves. By keeping the main dishes off the table, you and your guests, are less likely to continue filling up your plates with extra helpings of food.

8) Take a walk – Thanksgiving is a day full of family, food and thanks. Take some extra time after your meal to enjoy your guests and go for a walk. This will aide in digestion and help your body use the energy and calories you consume.
Mérieux NutriSciences would like to wish you and your loved ones a wonderful and safe Thanksgiving holiday!
Meet the Author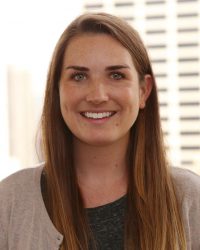 Molly Doyle, Registered Dietitian
Molly is the Regulatory Compliance Activities Coordinator for Mérieux NutriSciences. Molly graduated from The Ohio State University with a Bachelors of Science in Human Ecology. She is a Registered Dietitian and previously worked as a home care dietitian in Chicago. Molly loves to travel and try out new recipes in her free time. During college, she lived on a ship for 2 months and traveled to 10 different countries throughout Europe and Africa.