When consumers make a trip to the grocery store, increasingly they are choosing private label products over similar brand name products. Over a two year period from 2013 to 2015, sales of store-brand products in supermarkets rose by 2% to total $62.5 billion in sales, according to P.L.M.A.'s 2016 Private Label Yearbook. Offering strong private label products to consumers equals increased sales and customer loyalty for retailers.
Following this trend, retailer interest in improving and monitoring private label quality has also grown exponentially. Retailers are focusing on ways to increase private label quality, starting with how they choose suppliers and following it up with a robust quality monitoring program. These monitoring programs serve to prevent customer complaints and create customer loyalty to the brand owned by that retailer.  
How do I choose my supplier partners?
The foundation of a successful private label program is built by choosing supplier partners who meet your needs. There are several aspects to consider, including price, available supply and responsiveness. Once a small group of potential suppliers has been identified, retailers should allow consumers to voice their opinion on which supplier provides the best private label product.
Sensory testing provides data straight from the consumer that retailers can use to predict success or failure in the marketplace. For example, let's say you're planning to launch a private label sandwich cookie to compete with a national brand. You would first identify suppliers who can design a sandwich cookie similar to the national brand at your given price point and production volume. At that point, sensory testing can compare the products from your small group of suppliers to one another and to the national brand. The panel would consist of a large group of consumers, 75 or more, and they would quantify how much they like specific aspects of each cookie, such as the appearance, taste, amount of filling, chocolate intensity, etc.
After the data is collected, your sensory testing partner would apply statistics to that data to yield the top performing suppliers with 95% confidence. This large-scale consumer panel provides the retailer with the name of the top scoring supplier, which ensures success for that private label product in the marketplace.
How can I use product matching in developing my private label product?
Matching a national brand's product is like trying to hit a moving target. National brands reformulate and evolve over time to meet new label claims or to cut costs, which creates a difficult standard for a private label competitor to reach.
In some cases, the unique factors of the national brand also add to the complexity of product matching. For example, if you're trying to launch a boneless wing product to compete with a national brand, you would need to match the color and texture of the breading on the wings as closely as possible.  Directional Attribute Testing (DAT) is a sensory test developed by Mérieux NutriSciences that combines the profiling of a national brand product to a competing prototype and uses food scientists as oriented panelists. This provides a quantitative comparison of the experience of eating the two different products. The resulting profile provides retailers with a lexicon of terms to use in product specifications and a spider graph overlay showing how the private label item ranks against the national brand.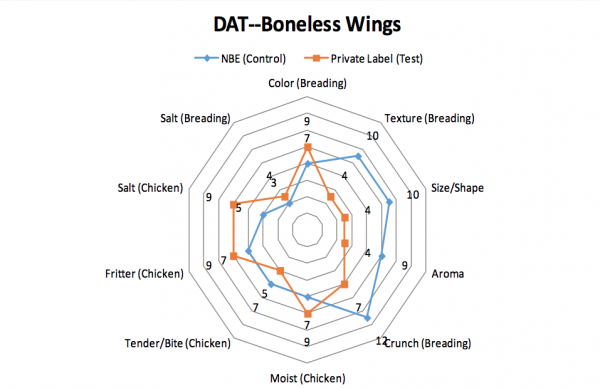 How can sensory testing benefit my private label monitoring program?
After choosing the right supplier partner, the next challenge for private label brands is to maintain the quality of their brand and the associated customer loyalty. As previously stated, national brands are continuously evolving. This ever-changing target creates the need to evaluate how your private label stands up to the national brand on a regular cadence. Further, if you use multiple manufacturers to produce a private label product, it is imperative to verify that each supplier's quality assurance targets and tolerance line up with your quality expectations. Sensory testing provides the basis for any private label monitoring program.  
Unlike the large sensory panels that are used to tender business during a product launch, smaller sensory panels are used for quality assurance monitoring. In these panels, a quantitative assessment of appearance, aroma, flavor, texture and overall acceptability is used to compare the private label to the national brand. Samples are served in a monadic presentation, meaning that they are presented and scored individually, and the panel is made up of non-rejecting consumers of the product. This straightforward approach makes it easy to recruit a panel that can evaluate a large variety of samples in a timely manner.
The panel serves to identify samples with product defects or that drift from the national brand standard. The resulting data provides information on trends, allows retailers to scorecard suppliers and tracks private label product quality. In monitoring quality, retailers save money by avoiding customer complaints and establishing loyal private label fans.
In addition, it is imperative for retailers to hold private product evaluation sessions with private label Quality Assurance (QA) teams and buyers to review failed products. This gives buyers, QA officials and product developers a chance to experience problems first-hand and discuss needed improvements with suppliers in-person.   
How can I fund private label quality assurance?
Retailers have thousands of SKUs to manage, so budgeting for an individual private label monitoring program may seem difficult. However, because both the retailer and the supplier gain benefit from testing data about the quality of their products, often quality assurance programs are entirely supplier-funded. As part of their business contract, the supplier would agree to pay for the testing and then both parties would receive the data. This enables retailers to create private label monitoring programs with no additional cost burden.
What associated services should I be using to ensure quality?
In addition to using sensory testing to ensure product quality, physical testing can also be an effective way to prevent customer complaints. Physical testing can include, but is not limited to, determining fill weights, quantifying breakage, identifying packaging failures or determining the uniformity of products.  
Label review programs also keep retailers in compliance with ever-changing regulations. Whether a product is under FDA or USDA jurisdiction, a label review program should be developed to align nutritional facts panels and principle display panels with current regulations.
Are you a retailer in the process of developing a new private label product or establishing a quality assurance program for an existing product? Explore Mérieux NutriSciences' sensory services to ensure quality and success in the marketplace. Our sensory experts offer product matching services, large-scale consumer panels, smaller-scale consumer panels for quality assurance and more! Download our sensory testing brochure for more information on our comprehensive offerings.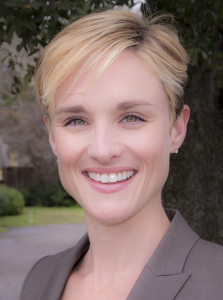 Gillian Dagan, Ph.D, CFS
Research Services Business Development Director, Mérieux NutriSciences
Dr. Dagan joined Mérieux NutriSciences with the mission to grow the Research Services business unit that provides clients with customized research projects like sensory testing and shelf life studies. She previously served as Chief Scientific Officer of ABC Research Laboratories where she developed sensory and quality assurance programs for manufacturing and food service clients.