Today, there seem to be more grocery store chains than ever before. However, despite the variety of options, if you explore any of them you will find a similar pattern – an expansive brand of products unique to that store, otherwise known as a Private Label Brand. In recent years, chain-style grocery stores have shifted their focus to increasing their brand recognition. In order to accomplish that, they need to deliver quality consumer packaged goods at a competitive price. The resulting "private label war" has been driving down the prices of store brand food products, thus creating more competition for well-known national brands.
The groundwork for these "private label wars" can best be seen by comparing consumer attitudes over time. Rewind and imagine walking through the aisle of a grocery store 20 years ago, trying to make a decision between a store brand cookie and a well known national cookie brand that ran commercials during Saturday morning cartoons. If you had your kids with you, or if you were the child in this scenario, good luck in choosing to buy the private label cookie without some resistance. Back then, private label products were synonymous with bargain shopping, and the typical consumer opinion was that buying store brand product meant you were sacrificing quality in order to save some money on your grocery bills.
Fast forward to present day, and you will find that consumer opinion has shifted significantly, with, "61% of consumers saying that quality has increased significantly" for private label brand foods, according to a report from the Food Marketing Institute. An increasing number of consumers are also choosing where to shop based on brand loyalty. As a result, marketing strategies are now aimed at increasing brand awareness and loyalty among consumers. With the rise of social media, this goal is becoming easier for private brands to achieve. Some of the best-in-class private brands are actually claiming more ad share space than the national brands, according to the Daymon Private Brand Intelligence Report. These days, many people actually have favorite private label products that they choose to buy over national brands, and they often post their love for these brands/products on their social media accounts, which creates free marketing content for the private label brand sector.
There has been a major shift in the food industry since the 1990s as manufacturing for Consumer Packaged Goods (CPG) has increased exponentially. From 2003 – 2010 alone, the number of products being manufactured increased by over 50%, according to a report by McKinsey & Company. Innovations in the food business and consumer trends have driven grocery store chains to develop new products that will help them differentiate themselves from competitors in order stay relevant. Additionally, consumers are demanding more transparency, increased sustainability efforts, healthier food options and greater convenience when it comes to the food they are purchasing.
While national brands have been trying to adapt to meet this demand, changing years-old brand recognition and preexisting consumer opinions can be challenging. Because private label brands are newer to the market, they are able to fill this void and develop products to meet consumers' demands more easily. This is concerning news for the national brand labels. According to the Private Brand Intelligence Report, in 2017, private brand sales increased by 4%, which is 8 times more than national brand sales.
So, what does all of this mean for the future of CPG? With a billion new consumers entering the market by 2020, both private label and national brands will need to work to keep up with consumer demand in order to stay on the market. This will mean offering healthy options, reducing undesirable ingredients in packaged foods and keeping up with sustainability efforts. This demand, coupled with growing competition, will continue to drive innovation in food and increase consumer access to healthy food, all while decreasing prices and food waste.
To meet and exceed consumer expectations, national and private label brands alike benefit from sensory testing and consumer research studies. Retailers looking to develop a private label product can use sensory testing to conduct consumer panels and gather data on consumer opinions regarding how their product stacks up against the competitor's product. You can also use product matching services when developing a new product to match the attributes of the food item you are emulating from a national brand, such as the color, texture or flavor.
With the growing popularity of private label brands, sensory testing proves useful for national brands when reformulating products to make new label claims and stay competitive. Sensory studies can help validate new formulations, such as a new version of a cola drink using a different sweetener. Consumer panels also can help ensure you are staying up-to-date with the preferences of your product's target audience.
This disruption has only just begun, and if the trend continues, we will likely see exponential growth of private brand label foods in the coming decade. Is your company ready for the private label wars? As you create new products or reformulate others to meet consumer demand, a label review program is crucial to stay in compliance with ever-changing regulations. Whether your product is under FDA or USDA jurisdiction, a food label review program should be developed to align the Nutrition Facts Panel and principle display panels with current regulations. Mérieux NutriSciences offers complete nutrition labeling options and food labeling services to ensure compliant labels, with a Regulatory Compliance team dedicated to food and nutrition labeling. Contact us today to start your food label review!

Meet the Author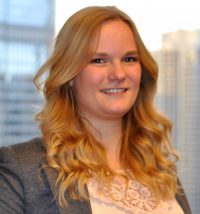 Paulina Schmidtke
Regulatory Compliance Analyst- Nutrition Database & Labeling, Mérieux NutriSciences
Paulina earned her Bachelor's degree in Dietetics at Michigan State University, where she sparked her interest in food labeling regulations working with small businesses in Michigan. At Mérieux NutriSciences, she works with national restaurants and manufacturers to help them stay compliant with new labeling regulations. Paulina has a passion for cooking, developing new recipes and home brewing new beers with family and friends.