The old saying is to never judge a book by its cover, but consumers regularly judge a food item by its label. Increasingly, customers are spending more time reading every part of a product's label before they buy it, from the claims on the front to the nutrition information to the ingredients list. Here at Mérieux NutriSciences, our Labeling Compliance & Nutrition Services team works to help food manufacturers create compliant food, menu and nutrition labels with federal regulations, including Food and Drug Administration (FDA), United States Department of Agriculture (USDA) and Health Canada.
Irene Chau, Sr. Regulatory Compliance Specialist – Food Labeling, is a key member of that team, working with clients to ensure their labels are compliant. I recently chatted with Irene to shed some light on food labeling trends, misconceptions and regulations.
Q: Can you describe your role at Mérieux NutriSciences within the larger Labeling Compliance & Nutrition Services team?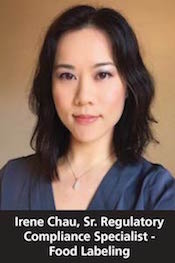 A: In addition to my usual label review work, as a Senior Specialist, I also provide guidance and support to the team on United States (U.S.) and Canadian label reviews by:
Performing quality checks on

label reviews

completed by other team members

Implementing audits on past

label reviews

, supporting tutorials on various labeling topics and responding to common labeling questions from the team and clients

Providing training and technical support in various areas, including label reviews for U.S. FDA & USDA, Health Canada,

pet food labeling

and

restaurant menu labeling

.
I work on U.S. FDA (21CFR) and U.S. USDA (9CFR) regulations most often. I'm also an expert on Canadian Food and Drug Regulations.
Q: What is your professional background prior to working at Mérieux NutriSciences?
A: I have always believed the saying, "you are what you eat." Because of this, I chose to study Nutrition and Nutraceutical Sciences when I was in college. I enjoyed learning about which ingredients are nutritious and what foods are beneficial to human health. This grew my interest in labeling, and as a result, I started to pay more attention to the food labels of all of the products I would see at the store.
After graduation, I worked for a food importer in Toronto, Canada as a Quality Control & Regulatory Affairs Manager. In this role, I was responsible for taking foreign food labels and transferring the information onto a new label that was compliant with Canadian regulations. I also reviewed all marketing materials associated with the products to ensure they were compliant with Canadian laws. I then opened my own consulting company to provide regulatory consultation and food label review services. This experience led me to become a Regulatory Affairs Specialist at Mérieux NutriSciences in 2009.
Q: What common questions do you get about food labels? What are commonly misunderstood or overlooked aspects of food labeling?
A: The most common question I get from food manufacturers is whether a specific food label is compliant or if a certain ingredient is permitted to be used in the U.S. or Canadian market. If the answer to any of these questions is no, then they will ask what the consequences are for not being in compliance. Possible consequences include a necessary correction on the next print run, a warning letter from FDA, a voluntary or mandatory recall, detention at customs or a lawsuit. If the issue is very minor, it is also possible that nothing would happen.
One of the most commonly misunderstood aspects of food labeling is that each country has their own set of rules and regulations that need to be followed. Even if the terminology used or the name of the ingredient is the same in two different countries, that word or phrase may have a different meaning in each of them. For example, the calorie and carbohydrate calculations for use on a label varies depending on which country the product is sold. There could also be a discrepancy in the definition of a specific term, such as the word  "chocolate," which requires a varying minimum cocoa content to be used on labels in different places.
Some commonly overlooked aspects of food labeling include using the proper unit of measure for nutrition labeling and declaring all of the necessary allergens. Manufacturers in the U.S. need to abide by the Food Allergen Labeling and Consumer Protection Act of 2004, which requires a declaration of the presence of eight major allergens in a product. These include milk, fish, peanuts, wheat, Crustacean shellfish, eggs, tree nuts and soybeans. Sometimes manufacturers will miss allergens because the ingredient itself uses different terminology, such as cream, whey or sodium caseinate, which are all sources of milk, or semolina, which is a source of wheat.
Q: Why should food manufacturers place a focus on making sure their food and nutrition labels are accurate?
A: When designing a product's label, driving sales is the number one priority for food manufacturers. But in doing so, it is important to create competitive labels that are able to draw the buyer's attention while still avoiding all potential labeling pitfalls. Repercussions for mislabeling include a government agency issuing a warning letter, a mandatory recall or a lawsuit from a consumer advocacy group. From something as straightforward as a missing allergen statement on a label to outrageous marketing claims, an inaccurate label can potentially cost a food manufacturer a lot of money, time and damage to their brand's reputation.
Q: How do you see pet food trends evolving to mirror labeling trends in human food?
A: The nutritional needs of animals are different from humans, so the pet food labeling trends may not be highly mirroring the labeling trends in human food. However, people are treating pets as part of the family now, and as a result, humanization, healthier choice, "natural," non-GMO and sustainability are also now becoming hot labeling trends in pet food.
Q: As an expert in the field, what consumer trends do you think will influence food labeling in the future?
A: I think the rise of e-commerce trends will significantly impact food labeling in the coming years. Note that when I mention "labeling," I am talking about not only about the label on a food's packaging, but also all other written, printed or graphic material upon or accompanying a product. This extends from the physical item to advertisements, websites, social media and mobile apps.
Not only does all of the information on the web need to be compliant with local regulations, but any reviews or comments from consumers on the site will need to meet the regulated criteria as well. This means comments cannot be misleading or contain non-permitted claims, such as a drug claim that contains language not permitted under applicable regulations. When the website or social media page is owned by the company, if a consumer leaves a misleading review, then the company is responsible for removing that comment.
Is your product's food label in compliance with all applicable federal regulations? Mérieux NutriSciences' Labeling Compliance & Nutrition Services team can help by customizing your claims to mitigate mislabeling risk. After review, our experts can also integrate directly with your design team to provide you with compliant labels for sale in Canada or the United States. Ready to get started on your label review? Download our Food Labeling information sheet today!

Paige Krzysko
Social Media Specialist, Mérieux NutriSciences
Paige Krzysko is the Social Media Specialist for Mérieux NutriSciences and, as such, she works with several departments across the organization on their food safety communications. One of her main interests in the food industry is how federal regulations affect food production. She's worked in communications for six years and earned her Bachelor of Science in Journalism from the University of Illinois Urbana-Champaign.