Thank you for visiting us at IAFP. This year's conference brought together experts from across the globe to learn, engage, and collaborate on the latest scientific advancements in the food industry. As we reflect on the successes of the show, we wanted to share with you some of the highlights that stuck out to us!
---
Industry Insights
The results are in! We polled the industry for their opinion on best practices and future leading trends. Here's what industry insiders had to say: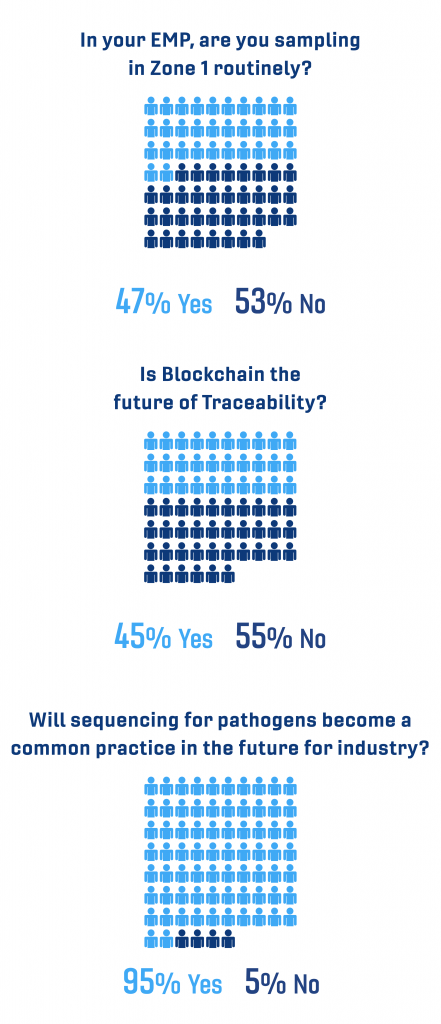 In your EMP, are you sampling in Zone 1 routinely?
Most experts advise against testing zone 1 surfaces for pathogens due to the potential risk of recalls from contaminated surfaces. However, disregarding your highest risk areas for your highest food safety risk may be rationally unsound. Talk with our expert consultants to learn more about designing the right program for your facility.
Is Blockchain the future of Traceability?
Many grocery chains are turning to blockchain solutions to support traceability initiative with one of the leading retailers requesting use of some products as early as Sept 2019. Crystalchain is one provider that is partnering with retailers and manufacturers to help them reach the consumer with valuable insights about the origin of products.
Will sequencing for pathogens become a common practice in the future for the industry? 
WGS provides in-depth DNA sequence information that allows for enhanced resolution of the entire genome and thus offers better discrimination between similar organisms. WGS and ribotyping can be effective tools for the industry when developing facility-specific environmental monitoring programs to determine if there are persistent or transient contaminating strains in their environment and to deep-dive into any problem areas.
---
Congratulations to the IAFP 2019 Award Recipients 
Merieux NutriSciences congratulates all of the awards winners at IAFP and would like to especially recognize:
John H. Silliker Lecture: Robert V. Tauxe, Centers for Disease Control and Prevention
Institute Merieux Young Investigator Award in Antimicrobial Resistance: Jasna Kovac, State College, Pennsylvania
Heartfelt congratulations to all award winners on their achievements. For a full list of winners, click here.
---
Active in Science
Case Study: Successful conclusion of early-access customer evaluations of the Listeria PatternAlert™ assay, a breakthrough method for rapidly identifying molecular patterns from Listeria strains. For more information, download the full case study.
---
Scientific Sightings
In case you missed them, download our posters from the conference.
Long Read Sequencing for Food Safety Application  With decades of development, the second- and third-generation sequencing technologies have become indispensable and approachable. The third-generation sequencers are particularly captivating with their long-read sequencing (LRS) capabilities, rapid and flexible sequencing methods, and real-time data analysis features.
Whole Genome Sequencing Analysis for Top Seven Shiga Toxin-producing Escherichia coli  Escherichia coli O157:H7 and six other Shiga toxin-producing E. coli (STEC) serogroups O26, O45, O103, O111, O121, and O145 are often referred to as the top seven STEC. The use of Whole Genome Sequencing (WGS) data to identify, subtype, and distinguish the top seven STEC is rapidly growing. The performance of WGS must be examined to ensure appropriate implementation.
Comparison of Listeria Isolates from Environmental Sampling Using Whole Genome Sequencing, Pulsed Field Gel Electrophoresis, and the Riboprinter® System  Whole Genome Sequencing (WGS) is transforming food safety as it allows for rapid and reliable detection of foodborne illness culprits. WGS is used by academia as well as regulatory authorities to characterize and link foodborne disease outbreaks, trace pathogen sources, and compare against epidemiological data; however, its use at the industry level is still fairly new.
Validation of Detection of Listeria monocytogenes in 125 g Natural Cheese Product by Real-time BAX LM PCR and VIDAS LMO2 Methods  The objective of this study was to compare the detection of L. monocytogenes in 125-g test portion of Swiss cheese by two candidate methods, the VIDAS LMO2, and the BAX System Real-Time PCR, to 25-g test portions by FDA BAM reference method.
Comparison of Culture Preparation and Inoculum Levels of Listeria monocytogenes in Challenge Studies Applied to Cooked Ready-to-Eat Meat Products   Compared the effect of culture preparation and inoculum levels when challenging nine RTE meat products with L. monocytogenes to assess growth.
Comparison of Six Methods for Quantification of Lactic Acid Bacteria in Spoiled Sliced Turkey  Lactic acid bacteria is known to cause spoilage in many food products. Different quantification methods of lactic acid bacteria are used in the food industry, and the recovery can vary in different food matrices. A study was conducted to compare methods for quantifying lactic acid bacteria in ready-to-eat, spoiled sliced turkey.
Inactivation of Enterococcus faecium and Salmonella in Fried Potato-based Snacks  Salmonella is a pathogen of concern in low moisture ingredients that can be associated with potato-based snack pellets. Thermal inactivation data showed that E. faecium would be a suitable surrogate for in-plant validation studies of oil-fried, low moisture products, such as potato-based pellets.
Panel Discussion: Finding the Needle in the Cheese Block: How Do We Create Robust Sampling Plans for Dairy Products? This roundtable session discussed global perspectives from government, academia, and industry on microbiological sampling for detection of pathogens and indicators as verification for preventive controls.
Panel Discussion: Examining the Mutual Benefits of a Defined Supplier Monitoring Program: What is the Value of a Supplier Monitoring Program to the Retailer or Food Service Company and Suppliers? This roundtable addressed the value and mutual benefits of Supplier Monitoring Program from the perspective of the retailer and foodservice organization, the supplier and the consumer. The group considered monitoring as part of a robust program which results in defined quality and financial benefits for the manufacturer and foodservice organization, as well as higher consistent quality for the consumer.
Panel Discussion: Cottage Foods: Harmonizing Food Safety Practices for a Growing Entrepreneurial Industry Cottage food laws, existing in 49 states, allow individuals to produce and sell "low-risk" foods made in their home kitchens. Striking differences in the approved low-risk food lists between states adds confusion to food safety guidelines.  These variations act as barriers to academic, extension, and regulatory guidance and outreach for operators and consumers, compromising food safety.
---
Thanks again to everyone who took the time to stop by and see us at IAFP 2019! Hope to see you next year!