Highlights
Food Labels, Claims, and Customer Decision Making

Types of Claims and Their Definitions

New Regulations and What They Mean for You
Food Labels, Claims, and Customer Decision Making
Per 2014 FDA Health and Diet Survey published in 2016, 77% of U.S. adults reported using Nutrition Facts label when making a food purchase and almost 9 in 10 U.S. adults said they used claims when buying food products.  You will often see "Fat Free," "Low in Sodium," "Light," "Healthy," "High in Calcium and Vitamin D" on food labels.  But what kind of claims are these, and what do they mean?
Types of Claims and Their Definitions
These types of claims are known as nutrient content claims (NCC). An NCC is considered to be "any direct statement about the level (or range) of a nutrient in the food" (e.g., "low sodium"). Only prescribed NCC that have been defined by the FDA or USDA are allowed to be used on labeling for conventional foods including meat and poultry products­, as well as dietary supplements. Manufacturers must consider several factors when deciding if their product qualifies for an NCC.  Manufacturers are not allowed to make any non-defined NCC nor use non-prescribed wording (e.g. "Low in Sugar," "Free of Trans Fat.") on Food or dietary supplement product labels. Below are descriptions and synonyms of commonly seen NCC.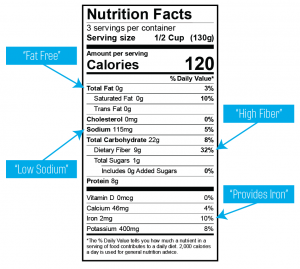 "Free"
Product contains insignificant amount of any of the following nutrients: total fat, saturated fat, cholesterol, sodium, sugars or calories
Permitted synonyms: "negligible source of", "dietarily insignificant source", "No", "Zero", "Trivial Source of"
"Low"
The product contains a nutrient per Reference Amount that is below the defined level – For example, 3g or less for fat, 140mg or less for sodium.
Permitted synonyms: "little", "few", "contains a small amount", "low source of"
"Good Source"
Product contains 10 – 19% of the Daily Value per Reference Amounts Customarily Consumed (RACC)
Permitted synonyms include "contains" and "provides"
"High"
Product contains 20% or greater of the of the Daily Value per RACC,
Permitted synonyms include "excellent source" and "rich in"
"Lean"
May be used on seafood or game meats which contain less than 10g total fat, 4.5g or less saturated fat, and less than 95 mg cholesterol per RACC.
"Extra Lean"
May be used on seafood or game meat which have 5 g total fat, less than 2 g saturated fat, and less than 95 mg cholesterol per RACC.
As mentioned, consumers are using claims to make decisions to purchase foods.  As a result, it is extremely important all claims made are truthful and not misleading, as well as meeting the definition prescribed by the FDA and USDA.
New Regulations and What They Mean for You
As of January 1, 2020 there are several new regulations to take into consideration before adding an NCC to your product label. New products and existing products alike will be affected by these changing rules. These factors must be taken into consideration or re-evaluated if an NCC is made.
New RACC (Example – beverage changed from 8floz to 12 fl oz),
New reference daily intake (RDI) (Example – fiber changed from 25g to 28),
New unit of measure (Example – Vitamin D changed from IU to mcg,
New nutrient definition (Example – dietary fiber – now excluding the isolated fiber that has no beneficial effect to human),
New mandatory nutrient (Example – Added Sugar, Potassium)
What Can Mérieux NutriSciences Do for You?
Are your new product labels compliant with the new regulations? Our Labeling Compliance and Nutrition Services (LCNS) team at Mérieux NutriSciences will work with you to ensure your product claims are compliant before hitting the market.

About the Author
Jennifer Kaupp is a Labeling Compliance Specialist at Mérieux NutriSciences.  She received her Bachelor of Sciences from Wayne State University in Nutrition and Food Science.  She has over 10 years of Food Industry Experience.  Prior to her role at Mérieux NutriSciences Jennifer was a Research and Development Manager for a leading private label manufacturer. In her free time, she loves spending time with her family, traveling, and spending time outdoors.