Highlights
Updates to Definitions and Labeling Regulations

Product Naming Regulations

Feeding Trial Protocol Updates
A lot was accomplished in pet food at The Association of American Feed Control Officials (AAFCO) Annual Meeting, despite restraints imposed by a virtual format. The Pet Food Committee (PFC) reported progress by a number of working groups.
Human Grade Defintion
Firstly, an amended definition for the feed term "human grade" was accepted. This will allow for the use of an alternative, but equally demanding, way to meet AAFCO requirements for use of the term. It is anticipated that an accompanying guidance document will result in new procedures for the certification of "human grade" pet foods by the AMS within the USDA. Human Grade means that every ingredient and the resulting product are stored, handled, processed, and transported in a manner that is consistent and compliant with regulations for cGMPs for human edible foods as specified in (21CFR117). Human Grade claims can only be applied to a product as a whole and will be deemed false or misleading if the product is not human edible. This claim cannot be made on individual ingredients in a product that does not itself meet the requirements as a whole.
Labeling Changes
With respect to Labeling Modernization, changes proposed in ingredient declarations were accepted. Other labeling changes under consideration include safe handling instructions, nutritional adequacy statements, and the establishment of a "Pet Nutrition Facts Box" to replace the guaranteed analysis and calorie content statement. The PFC also accepted a new guidance document pertaining to the labeling and marketing of therapeutic dog and cat foods. This document attempts to clarify FDA's Compliance Policy Guide (2016 CPG 690.150), on the same topic.
The CPG limits sales of these products only under a valid veterinarian-client-patient relationship, and although it allows for information on indications for disease treatment, prevention and mitigation to be communicated to the veterinary professional, it restricts this information from appearing on the label or other consumer-oriented materials.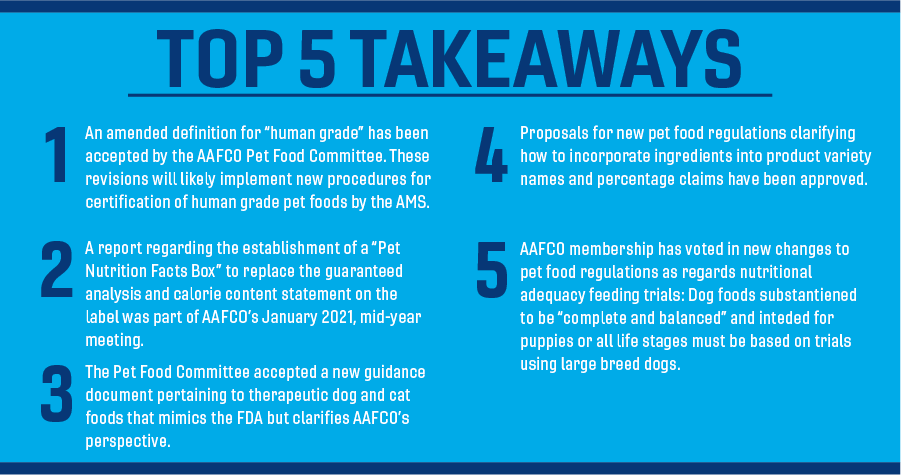 Updates to Product Naming Regulations
The Model Bills and Regulations Committee voted to approve proposals for new pet food regulations clarifying how to incorporate ingredients into product variety names and percentage claims. These new regulations will be seen in the next AAFCO Official Publication. The requirements for pet foods to meet the 95%, 25%, "with" and "flavor" naming rules remain essentially the same. However, products labeled "100%___" or "All ___" are now limited to single-ingredient products only with no exclusions for added water or trace additives. Claims, where a specific percentage of an ingredient is declared, are now required to include all product ingredients in the percentage calculation. This includes any water added for processing unless expressly excluded using a disclaimer accompanying the claim. For example, a product containing 50% beef, 40% water, and 10% other ingredients could be claimed to contain "50% beef" or "83% beef, excluding water."
Nutritional Adequacy Feeding Trial Protocols
The AAFCO membership voted in changes to the pet food regulations pertaining to nutritional adequacy feeding trial protocols. Dog foods that are substantiated to be "complete and balanced" through feeding trials and are intended for puppies or all life stages must be based on trials using large breed dogs. Alternatively, if the trials are run using a small or medium breed (e.g., beagles), then the product is required to meet the calcium and phosphorus maximum levels as stipulated in the AAFCO Dog Food Nutrient Profiles for growth of large-size dogs. In the past, foods substantiated for nutritional adequacy by this method were not required to meet the nutrient levels as dictated in the Profiles.
Additional Definition Updates
The Ingredient Definitions Committee-related actions included the AAFCO vote to approve a new definition of krill meal.  It can be used as a source of protein & lipid in dry adult dog food "only" at a rate not to exceed 3% (AGRN30). The proposed definition of "common or usual" and "common foods" also received a vote of acceptance." Common foods are foods with a long history of use and are seen by the public as "food," but have not received regulatory authorization or been defined by AAFCO. Common foods are offered in "usual" food form such as fresh or dried and are widely accepted in pet food. "Common or usual" is the concise name used by an ingredient on a label to help consumers identify the ingredient. The same ingredients can have different common or usual names when used in pet food versus when used in human food.
Contact our experts to learn more about how Mérieux NutriSciences can help you with all your labeling needs.